---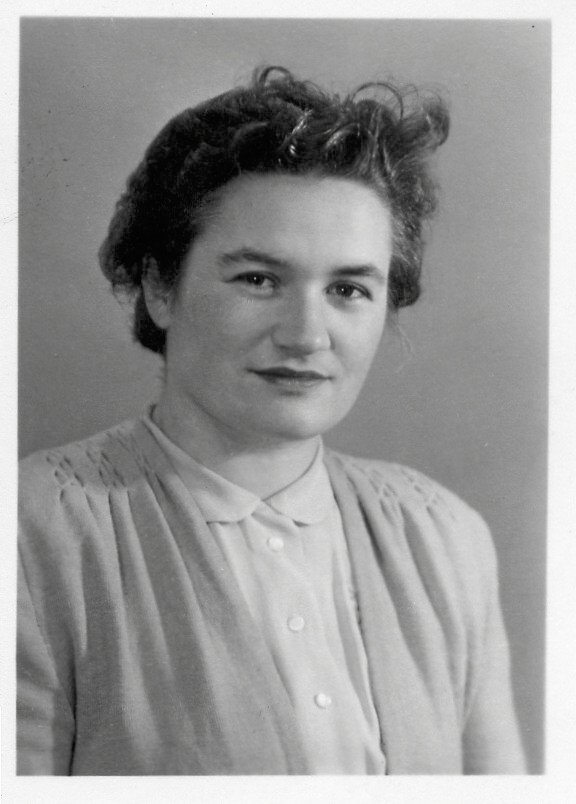 In Memory of
Lydia M. C. Voise
1926 - 2020


Obituary of Lydia M. C. Voise
Lydia Mathilde Christine Voise, nee Spang: 30. October, 1926 to 4. May, 2020. Lydia was born prematurely in an ethnic German Lutheran settlement in Dornfeld, province of Galicia, within the Austro-Hungarian empire, which lies near present day L'viv, Ukraine. She was the oldest of 3 children, surviving her brothers Oskar and Hans. Poverty had been long established throughout her homeland even before their Great Depression and Ukraine's Great Famine set in, teaching her a frugality that remained with her always. While in the 8th grade, the 1939 Invasion of Poland started WWII and thereby ended her schooling, the view being that girls didn't require an education. She and her mother, Mathilde, were relegated to doing menial tasks such as digging potatoes in a nearby Polish-run workcamp. The Red Army approached in 1944 to occupy Galicia, so the family was forced to evacuate; during their flight, Mathilde was raped by Russian soldiers. 1945 marked the end of the war, but also the sudden death of her father, Jakob, from a heart attack, leaving them destitute. They continued on to a ravaged Germany, settling near Düsseldorf, along the Rhine. She and Henry had stayed in touch since meeting in Dornfeld and were married on 2. July, 1948 in Grevenbroich. With greater opportunity awaiting in the U.S., she, Henry, Wolfgang, with one small crate of belongings in tow, bravely left all of her family and friends in Germany, to start a new life. They endured a long, seasick journey across the stormy Atlantic on board the USS General W.C. Langfitt, a WWII transport ship, arriving on Valentine's Day, 1956, with $500 in their pockets. They settled in Rochester, just a block away from Henry's parents, and in just 2 years of hard work and saving managed to purchase a home in need of repair for their family, which had added a daughter. Lydia worked as a domestic housekeeper for many years and, despite the initial language barrier, was lovingly embraced by the families who employed her; an early contact had referred her to people at Oak Hill Country Club. She never drove a car, so she was always happily picked up and delivered home by the ladies of the house. She brought home many hand-me-down treasures. For several years, Lydia belonged to the German choir at the now defunct St. Luke's Lutheran Church at the former Inner Loop; this helped her transition to life in America. She lived on Marion Street, near the Browncroft area for 28 years, before moving to Penfield, where she resided in a quiet neighborhood for 29 years. She was delighted to join the Penfield Garden Club there and was quite active. She loved gardening and always had the tidiest flowerbeds around; as she got older, she was only too happy to weed other people's gardens as well. She enjoyed walking every day, no matter the weather, and even walked 3 miles daily into her 80's. She discovered the Penfield Senior Center, which became like a second home, enjoying all their activities and making many good friends there. She loved dancing polkas with her husband, playing ping-pong, assembling puzzles, singing, listening to classical music, and despite English not being her first language, was a force to be reckoned with at Scrabble. She laughed easily, happily volunteered her time, was eager to please, had a generous soul, and adored her family, especially doting on her grandchildren--for whom she would have laid down her life. She loved going places; near or far, already seen or new--didn't matter--she was ever-curious. She was quite popular for her unique chocolate chip cookies, pan-sized apple pancakes, Streusel Kuchen, pierogi and Holuptsi (cabbage rolls)--never using a recipe. Her day was planned around her favorite soap opera; a sandwich was the norm to make best use of the time. At night, Wheel of Fortune was at 7:00 sharp, during which she would knit socks for Henry. She never wasted time and rarely sat still. Reading brought her endless hours of pleasure; usually it was Reader's Digest. But there was more adversity. She began having heart trouble in her 60's, resulting in multiple, invasive surgeries in rapid succession, including bypass procedures, yet she ultimately rose above as though it never happened. The poorly executed removal of a small, malignant tumor resulted in the loss of sight in one eye, taking her depth of vision with it. This led to a fall into a recessed drain in the road during one of her walks, and a broken hip. As resilient as ever, she conquered these issues and adapted. Not wanting to use her walker unfortunately resulted in extensive damage to the other hip in a subsequent fall and put walking to an end. Dementia began to set in, and she knew her memory wasn't as sharp as it once was, but she believed in herself nonetheless. She still held out hope that she might return to Germany in her last year which showed her strength of spirit. It is with profound sadness that we say goodbye to our beloved Mutti, Oma, Aunt Lydia, and friend. She wanted to be with Henry ever since his passing 8 years ago and finally got her wish. Because she had Covid-19, her last days were not as we had hoped, but Dorothy was blessed with having gotten a smile from her through the window on a day when she rallied. She was loved by many and will be carried on within those hearts. Our family thanks staff at Grande Vie Assisted Living, Creekstone Memory Care, and the Brightonian Nursing Home for their tender care. Until we meet again. There was no one like you. Lydia M. C. Voise of Brighton on May 4, 2020, passed peacefully at age 93. Predeceased by her beloved husband, Henry. She is survived by son, Wolfgang; daughter, Dorothy (Bernard) Borglum; grandchildren Eric (Nellie), Lindsay, Philip, Peter and Larissa; twin great-granddaughters; 10 nieces and nephews; dear friends and extended family in Germany. She was well-loved and will be sorely missed. A celebration of her life will be announced at a later date. Interment private at White Haven. To share a memory or to read more about Lydia, please visit:


Share Your Memory of
Lydia
who we are:

Jennings, Nulton & Mattle Funeral Home, Inc. has been providing dignified, quality funeral services to families for many years. We believe that while every death should be mourned, every life should be honored and celebrated.

Our Location:
Jennings Nulton & Mattle Funeral Home Inc
1704 Penfield Road
Penfield, NY
14526
Office@jenningspenfield.com
Phone: (585) 381-3900
Fax: (585) 381-2244