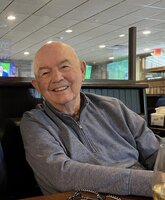 Peter B. Lenox
"The world is a better place because he was here."
Peter B. Lenox, 90, of Rochester, NY, passed away peacefully in the early morning of Friday, January 27, 2023 following a short battle with a sudden respiratory illness. He is survived by many caring individuals, including his loving wife of 67 years, Shirley (affectionately known as "Shirls"), their 4 children, Sue, Dave (Jeff), Don (Anne), and Karen (Joe), 6 grandchildren (Matthew, Michelle, Jamie, Brittany, Bryn, Ben, Crey, and Emma) and 2 great grandchildren (Aari, JJ). Additionally, sisters Nancy and Sue and brothers-in-law, Dave and Don.
Known to many simply as Pete – a reflection of his easy-going, affable personality – he would also answer to Blades, Papa, and Dad. When asked about his middle name, "Blades", he would quip, "That's because I am a sharp guy." A perfect representation of his "dad-joke" humor. His smile was the catalyst to his defining feature...a special "sparkle" that immediately made anyone who spoke with him relaxed and comfortable. He was a linear thinker who loved strategy when playing games. An avid bridge playerand "champion" of just about any board game he played. He was a natural athlete who could pick up any sport quickly and then find himself on the winning side. He enjoyed playing golf and defined his game as "acceptable". This kind of humility endeared him to his competitors. He enjoyed traveling, but sometimes the experience of the destination took a back seat to the actual planning of the trip! Yet, maybe most of all, anytime, anywhere he could throw in a fishing line, he may have been at his happiest.
Pete was a Kalamazoo graduate where he was treasurer of his senior class in addition to participating in several campus organizations. He was a member of the football team and when asked to play quarterback, he reluctantly agreed. His natural ability combined with leadership skills and that strategic thinking had the team playing hard for him every game that season, a most difficult task since they did not win a game. But as Pete would say, "Keep trying, your mettle is defined by your perseverance." A descendant of a line of ministers, Pete continued to seminary at Colgate University to follow the family pathway. However, finding himself with a daughter on the way, he took a friend's suggestion and applied to a mainstay in the Rochester area...Kodak. He scored so high on the aptitude test; the company hired him as a systems analyst for these new things called computers. He worked at Kodak in this capacity (with a brief stint in personnel) for 35 years, a testament to his loyalty. Restless in retirement, he worked briefly as a mailman and as a computer assistant at a middle school until he decided to spend his time at home where he could "work" as a grandpa.
He wished to thank the extraordinary staff at FF Thompson Hospital for their genuine concern and for the extra time each individual caregiver took to make him and his family comfortable during his brief stay.
In lieu of traditional funeral services, Pete's family will celebrate his life at a later date. This memorial website will be updated with that information as soon as we have the details. His connection with children was the basis for his favorite charity, St. Jude's, and we invite donations to this organization in his memory.
Some final thoughts:
Pete was a loving husband, son, son-in-law, supportive father, grandfather, great-grandfather and a friend to many. He always put others before himself. His undying devotion to his wife, Shirley, was unmatched. Even as he declined in his final months, he was much less concerned about his painful situation and more focused on her well-being. Frequently, when we asked him how he was doing, he replied, "I feel fine." Then he whispered to us, "Please make sure your mom is OK."
His smile and spirit will live on through the many people he touched. Unsolicited descriptions of the impression he left on others:
"I enjoyed talking sports with Uncle Pete and loved when he taught at Bay Trail" "I remember instantly liking him and could tell he was a great guy and great dad." "He was an amazing person and always kind to me"
"I'm so grateful to have met him, he was a joy to speak with."
"Pete was such a good man"
"Your dad is rock star."
"I couldn't ask for a better son-in-law"
"He was your point man, your champion...he always made everyone smile." "He had such a big smile. A more good-natured man you'll never find."