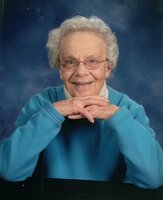 Marguerite G. Hartman
Marguerite G. Hartman of Rochester passed away on July 27, 2022 at age 97. Marguerite is predeceased by her husband, Joseph; infant son, Richard, sister, Dorothy Huber and her brother, Hugh Gruntler. She is survived by her children, Elizabeth (Christopher) Billings, William (Donna) and Mary Jo Hartman; grandchildren, Allison (Adam) George and Daniel Hartman.
Marguerite's Funeral Mass will be celebrated Tuesday, August 2, 2022 10:30AM at St. John the Evangelist Church, 553 Humboldt St., Rochester. Interment at White Haven Memorial Park. Kindly consider donations to Peace of Christ Parish.