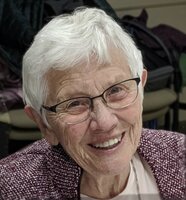 Sally Johnson States
Sally J. States
1929 - 2022
Sally Johnson States died January 10, 2022, aged 92, at home with her family.
Born November 13, 1929, in Worcester, Massachusetts, to Carl and Ethel Johnson, last of three children.
Sally earned a BS in chemistry from Mount Holyoke and moved to Rochester in 1950 to work for Eastman Kodak. At a ski-club picnic she met Dr. John D. States, MD (1925 – 2015). They married April 13, 1952.
She supported John's career throughout her life, moving to Texas, Boston, Atlanta and back to Rochester. They raised their family in Brighton, living in the same house for more than 50 years. She shepherded her children, nurtured their many interests, and organized neighborhood picnics and family gatherings. She was active with the Multiple Sclerosis Society and Downtown United Presbyterian Church. She became a Realtor and an early environmental activist. Sally collected and maintained many friendships through book groups, church, tennis, and swimming. She traveled the world and loved the outdoors, especially summers at Cape Cod and at 31-Mile Lake in Quebec, where she swam every day.
Sally is survived by her four children, six grandchildren and two great-grandchildren: David J. States, MD PhD, a scientist and entrepreneur (Ann Arbor, MI; married to Angel Lee); Randall (Randy) T. States, PE, a retired geotechnical engineer (New Haven, CT; Laura Fawcett); Katherine States Burke, MBA MSc, an educator and administrator at Stanford University (Woodside, CA; Bob Burke); and Rebecca Ann States, PhD, Professor of Physical Therapy at Long Island University (Bayside, NY; Mel Meer).
A Memorial service is planned for late May. Friends wishing to make contributions are encouraged to consider DUPCor the Natural Resources Defense Council.