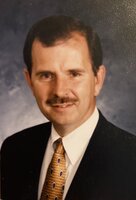 Michael Charles Bida, Jr.
Michael C. Bida, Jr.
Penfield – On January 7, 2022 at age 75. Predeceased by his parents, Michael and Elizabeth Bida; brother, Fr. John Bida; sisters, Ann Bida and Patty Brady. Michael is survived by his loving wife of 43 years, Victoria; children, Morgan (Rosangela) and Kate (Matthew) Knope; grandchildren, Mackenzie, Emma and Jacob Knope; Thomas Michael Bida arriving in February 2022; brother, Gerald T. Bida; many nieces, nephews and cousins.

A celebration of life will be held at a date and time to be announced. In lieu of flowers, kindly consider donations to the Michael J. Fox Foundation.