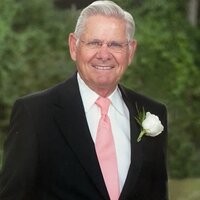 Francis J. Hirsch
Fran passed away December 13th, 2021 rather suddenly at age 87. He was born August 27th, 1934 and has been a long time resident of Pittsford, Penfield, and Canandaigua, NY.
Fran is survived by his wife of 34 years, Claire Hirsch; his children, Craig Hirsch, Pamela Guck (John), and James Hirsch; his stepchildren, Nicole Dye, April McClard; 5 grandchildren; his sister Pat Quick (Howard), brother Cornelius Hirsch, and many loved nieces, nephews, and cousins.
He is predeceased by his parents, Henry and Dorothy Hirsch, sisters Audrey Smith (Richard) and Elizabeth Prodrick (Lawrence), brother William Hirsch (June), and stepdaughter, Raina Dye.
Fran was a giving, hard-working, and vibrant man serving his country in the Navy at age 17. He then worked for his brother Cornelius "Neil", in the home building and land development business. Fran partnered first with Hartung and Hirsch, then with Passero and Hirsch, building homes primarily in Penfield, New York. He then started his own company Hirsch Tor Construction, later becoming President of Fran Hirsch Development, building custom homes in Penfield, New York. He was a former President of Rochester Home Builders and was active in several committees at the local and state level. Retiring to Florida during the winter months and living in Canandaigua during the summer, Fran was an avid tennis player and volunteered for years at the Canandaigua VA, driving veterans to doctors' appointments all over Western New York and St. Petersburg, Florida, even as late as this summer. He loved walking his dog, Barney, and was always on the go. He was also a philanthropist, donating thousands over the years anonymously, and he was an overall wonderful, generous, and good man.
Calling hours will be Wednesday, January 5th from 3 to 7pm at Jennings Nulton & Mattle Funeral Home, 1704 Penfield Road. Fran's Funeral, Mass will be celebrated Thursday, January 6th at 10:30am at St Joseph's Church, 43 Gebhart Road, Penfield. Internment will be at the Pittsford Cemetery following. In lieu of flowers, please make donations to one of the following:
The Ronald McDonald House
Light Hill Hospice
The Advent House