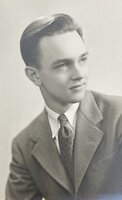 Ernest Victor "Vic" Enter
Ernest "Vic" Enter

Fairport - Passed away on December 8, 2021 at age 95. He is predeceased by his wife, Eileen. Vic is survived by his children, Suzanne (David) Scheirer and Steven (Debra) Enter; grandchildren, Melissa, Matthew and Kevin (Tori) Enter; great-granddaughter, Alyssa Moquin. Special thanks to the staff of the Fairport Baptist Homes for the loving care given to Vic.
Ernest Victor (Vic) Enter
Born – December 8, 1926​​Died – December 8, 2021
Vic was the son of Ernest Carl and Leonora (Wahl) Enter. He married Eileen Bourne, the love of his life, on October 24, 1953. She passed away on November 17, 2020.
A WWII era veteran and an Eastman Kodak employee with 30 years of service, he embodied the concept of quiet service to others. Dad was a man of integrity and faith with a kind heart and a positive outlook on life. He did have a dry and sarcastic sense of humor and loved to tease.
His family was very important and he was a loving but strict father, grandfather, great grandfather and uncle. Eileen and he loved to travel: driving across the country several times to visit family and touring many European countries. They enjoyed many summers camping at Hickory Hills. They also were snowbirds in retirement spending the winter in Fort Walton Beach Florida. One of their favorite activities was enjoying a libation at Howdy Dowdy time usually 4 pm.
Dad's legacy was providing guidance and encouragement to his family. He was quiet and respectful to all he came in contact with.
Vic had a full and well lived life. We, his family, are grateful to have had him in our lives.

All Services will be held privately. Those wishing may direct donations to the American Liver Foundation or Fairport Baptist Homes in Vic's memory.