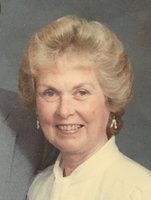 Joan B. Alfano
Joan B. (Dempsey) Alfano of Penfield entered into eternal rest on November 24, 2019 at the age of 89. Joan was born and raised on the New Jersey shore. She was very proud of her Irish roots and Catholic faith. She met her husband, Paul Sr., when they were teenagers at a beach party. They were married in 1951, went on to raise four children, moved from NJ to Michigan and finally to Penfield, NY in 1964. It was there they remained, married for 63 years, until Paul's passing in 2014.
Joan was predeceased by her husband, Paul Sr. and daughter, Maureen. Joan is also reunited in heaven with her parents; Raymond and Mary Dempsey, sister and brother-in-law, Doris and Joe Ryan; big brother, Raymond and wife Elline Dempsey, plus many other members of the Dempsey, Alfano and Bovasso families in New Jersey.
Joan loved the Penfield community for the 55 years she lived there. She was outgoing, kind and made friends easily. She always rooted for the underdog, and there was no greater friend to anyone needing a kind word or cup of coffee to share. She also loved the Buffalo Bills.
She grew beautiful gardens and loved the outdoors. She enjoyed growing her own flowers and vegetables in her younger years. She made wonderful applesauce and apple pies every Fall from the harvest of her apple trees. She always had a full bird feeder outside and spent many happy hours walking in the company of nature.
Aside from being a homemaker, she worked at Attie's Young Fashions for 25 years, making some of her closest friends there. She also volunteered at The Fairport Baptist Home after her retirement.
Joan was the family matriarch, and an amazing role model for all generations. She centered her life on kindness, charity and putting God and family before all else. She often said her children were her greatest joy in life. She is survived by her sons; Paul Jr. and Mark; and daughter Carol (Steve) DeRycke. She was especially happy in seeing her grandchildren; Katy (Richard) Williams (NV), Eric Alfano (TX), and Paul DeRycke (NYC) grow to adulthood and begin making wonderful lives for themselves. She was honorary grandparent to Carol's bonus children; Joyel (Roger) Bennett, and Kristine (Robert) Mapes, and their children. Joan is also survived by extended family in NJ, CA and VA.
The family would like to thank Aaron Manor for the care they provided during her last and most challenging years. The battle Joan waged against Parkinson's disease was long and difficult. She couldn't have done it without your help. The family would like to thank Lifetime Care Hospice for making her final days peaceful ones. Special thanks to Fr. Jim Schwartz of St. Joseph's parish for the blessings and loved bestowed upon her during her final weeks.
Calling hours are private. Friends are invited to her mass of Christian burial at St. Joseph's church, 43 Gebhardt Road, Penfield, NY on Friday, November 29th at 10:30am. Interment following at Oakwood Cemetery. In lieu of flowers, donations in her memory to the School of the Holy Childhood, the Parkinson's Foundation, or Lollipop Farm are greatly appreciated.