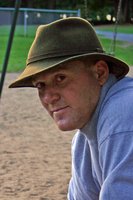 Jon D Saunders
Jon D. Saunders of Webster – Formerly of East Rochester died May 3rd, 2019 at age 58. Predeceased by his mother, Roberta "Bunny" (Spuck) Saunders. Jon is survived by his devoted wife of 34 years, Kathy (Callan) Saunders; sons, Callan and Tyler Saunders; father Robert L. (MaryAnn) Saunders, siblings, Timothy Saunders, Thomas (Melissa) Saunders, Karen Saunders, Amy (Ted) Miller and Pam (Jeff) Miller; several nieces, nephews, cousins and in-laws.
Jon attended East Rochester Schools, and then followed his father into home construction. In 1987 he went into business for himself, becoming a master trim (finishing) carpenter, and was the general contractor on a few homes that he proudly designed and built.
Jon was an avid golfer and played in the pro-am at the LPGA in Rochester in 1990. He would have liked to have joined the senior tour some day. He also played softball for many years and ice hockey. Jon was a coach for Perinton Youth Hockey for 17 years, coaching at all levels, and often coaching 2 teams at the same time. When his children were grown, he went back to coaching young children again. He was also a goalie coach, and he taught goalie and shooting skills at Puckstoppers, an ice hockey school in London, Ontario, Canada, in the summers. These were some of the best years of his life, and the players brought him much enjoyment.
Jon loved camping, boating, water skiing and the Adirondacks, where he and Kathy met in 1980. He loved his Harley Davidson and helping with his children's bands. Many of Jon's happiest memories are of driving the bands to their shows, moving equipment, watching them perform, and just being with the kids and their friends. The Saunders' home was always open to all of the kid's classmates, teammates, band mates and friends, and they all knew how to get in the house, at any hour, of any day. Nothing made Jon happier than being everybody's "dad". Loved by many. Missed by all.
Family and friends may call at the funeral home on Monday May 13th 2019 from 2:00-4:00pm and from 7:00-9:00pm. Donations in Jon's memory may be made to a charity of your choice.