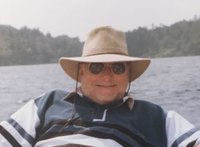 Howard Nelson Schmid
In loving memory of Howard "Howie" Nelson Schmid, devoted husband and father, who passed away on Saturday, April 27th, 2019. Born on February 3, 1936 in Rochester, NY.
Howie was raised in Rochester and lived there his whole life. As a child he enjoyed music, fishing and boating. Taking after his Dad, Elmer, he learned to play the trumpet and joined a band in his teens playing concerts at school functions. He became known as "Howie the Horn". As time went on, he played less, but Howie's youngest son, Todd, took up the trumpet and that reinvigorated him to pick up his horn and play again. He was proud to see his granddaughter, Brianna, and grandson, Jake, become trumpet players as well, thus representing four generations of Schmid's who learned to play the instrument.
During his youth, his family had rented a small cottage on the St. Lawrence River and in the early 1940's bought a cottage of their own, and that's where Howie's love of the Thousand Islands began. He spent many summers exploring and playing along the St. Lawrence and it was there that he eventually met his future wife, Shirley Van Atta.
After graduating high school, Howie took a job at Kodak, where he attended night school to become an engineer through R.I.T. He worked at Kodak for over 34 years in the mechanical engineering division. He retired as a Senior Draftsman. He was an active member in all three of his sons' extracurricular activities including Indian Guides, Boy Scouts and Explorers. He was also an assistant soccer coach for several years. Additionally, he was a member of the National Guard and was an auxiliary policeman.
Howie and Shirley enjoyed many years of visiting family in the Thousand Islands and eventually he and Shirley purchased a cottage of their own in T.I. Park during the 1980s. The family spent numerous happy summers and vacations there. Whether it was catching fish with his oldest son, Joel, S.C.U.B.A. diving with his middle son, Tim or watersports with his grandkids, Howie always took advantage of what the water had to offer.
In his retirement, Howie divided his time between his house in Greece, NY and at his summer cottage in the Thousand Islands maintaining a close relationship with family and friends. In his later years he kept active by riding his bicycle, walking and traveling with his best friend, Ann, volunteering and even dabbling with pottery for a short time. He will be cherished and remembered by his family and friends for many years to come.
His beloved wife, Shirley, passed away in September 1989. He is survived by a sister Barbara, sons Joel (wife Tammy), Tim (wife Roseann) and Todd (wife Cecily) and three grandchildren, Brianna, Jacob and Aiden, nephews Stephen (Wendy) and Larry Watt.
Friends may call at Jennings, Nulton & Matle Funeral Home, 1704 Penfield Road, Friday, May 17th, 4-7 PM. Howards Memorial Service will be held Saturday, May 18th, 10 AM at Bethany Presbyterian Church, 3000 Dewey Avenue. Those wishing may direct donations to savetheriver.org or Wilmot Cancer Center.