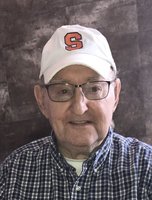 Richard Burton "Dick" Jordan
Penfield: On February 15, 2019, Richard passed peacefully at age 83. Richard is predeceased by his sister, Elaine (John) Boyd. He is survived by his loving wife of 56 years, Lois Ann; children, Jon (Sue) and Sandy (Mike) Mayer; grandchildren, Christian and Abby White and Kaitlyn Jordan; several nieces and nephews.
Friends may call Wednesday, February 20, 3-6 PM at Jennings, Nulton & Mattle Funeral Home, 1704 Penfield Road. His burial will take place in Millinocket, Maine. In lieu of flowers, kindly consider donations to Lollypop Farm.