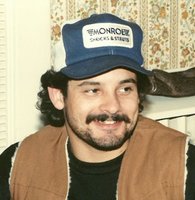 Richard F. Masters
Mr. Richard Frank Masters, son of the late James and Leah (Brown) Masters was born November 12, 1962 in Rochester, NY. He attended the R. L. Thomas High School of Webster and was a graduate of the class of 1981. Richard is predeceased by his brothers, Donald and Jimmy Masters.
Richard was an accomplished motor cross competitor, auto mechanic enthusiast, and model car hobbyist. He enjoyed metal detecting, photography and discovering local history.
Richard passed away unexpectedly on January 13, 2019 at the age of 56.
He was a loving and devoted father. Richard is survived by his children, Richard Scott Masters, Lyndsey Rae Masters (Matthew) and their mother, Lynn Masters (Joe), Zach Jonah Paul and Dominique Lee Paul; granddaughter, Skailynn Marie Paul; sisters, Deborah (Joel) Sapienza, Donna (Dale) Masters-Saucier, Diane Masters-Smith; several nieces, including Jessica Alawi-Dugovic (Kamad), Sandra Saucier (Chris) and many cousins.
Friends may call at Jennings, Nulton & Mattle Funeral Home, 1704 Penfield Road, Penfield, Saturday, January 26, 2019, 2-4PM.
In lieu of flowers, Richard's children ask that donations be made to National Suicide Prevention Lifeline. We can help prevent suicide and another family from having to endure the tragic loss of a loved one to mental illness. The National Suicide Prevention Lifeline is a 24-hour, toll-free, confidential suicide prevention hotline and chat line available to anyone in the US in suicidal crisis or emotional distress. By dialing 1-800-273-TALK (8255), the call is routed to the nearest crisis center in the national network of crisis centers. They are funded by SAMHSA and administered by Vibrant Emotional Health, a 501c3 organization.
Donations can be made at: https://suicidepreventionlifeline.org/donate