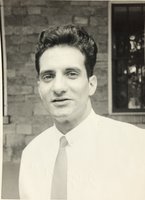 Louis Mark Bell
Louis M. Bell, known by most as Tonto, passed away peacefully at his home surrounded by family at the age of 88 on January 2, 2019.
He is proceeded in death by his parents, Louis Vitale, Nellie Miner and his sister Mary Spall. He is survived by his wife of 52 years, Joan (Statskey) Bell, and children, Stephen Bell, Rebecca Vitale and Maureen Ruggeri, grandchildren Sami Ruggeri, Serina Ruggeri and two great-grandchildren. Nephews, Randy and Glenn Spall and niece Sharon Delille. Tonto had a lawn maintenance service that served the Walworth, Penfield and Macedon areas for nearly 40 years.
No prior calling. A memorial service will be held at 1:00PM at Calvary Chapel of Macedon. Please feel free to wear bright colors, he would have preferred it.