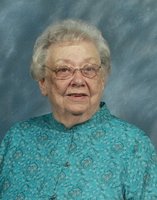 Julia Ann Boniface
Julia Ann "Judy" Boniface of Webster died at The Maplewood in Webster, NY on April 15, 2018 at age 95. She was born Julia Small the second of 3 children on her family's dairy farm in Herkimer, NY on April 10, 1923. In 1941 Judy moved to Rochester to attend the U of R School of Nursing. She was a very proud member of the Class of 1944 and she treasured her nursing friendships and memories from that time for the rest of her life. She worked as head nurse on contagion at Strong Memorial Hospital during the polio epidemic. In 1946 at the end of WWII she married John Boniface. In 1954 they built their home in Penfield. After her children were in school, she returned to Nursing in Geriatrics and she finished her career as Head Nurse at Hill Haven Nursing Home. This was at a time when modern geriatrics was evolving in Monroe County. She was a longtime member of Trinity Reformed Church in Brighton, NY. Her family was her first love and she particularly enjoyed travel, especially special trips across the Canadian Rockies by rail, Hawaii and Europe.
Judy is predeceased by her husband, John; her parents, James and Julia Chrisman Small; her sister, Margaret "Peggy" Boardman and her brother, Jake Small. She is survived by her daughter, Carol (John) Goodman; her son, John (Judi) Boniface and her 2 beloved grandchildren, Dr. Wendy Goodman and Tom Goodman of whom she was very proud. She was predeceased by her niece, Lorie Dewey and is survived by 9 nieces and nephews. She is also survived by special friends from the Class of '44.
Friends may call at Jennings, Nulton & Mattle Funeral Home, 1704 Penfield Road, Wednesday 4-6PM, where Services will follow at 6PM. Interment will be in Oak Hill Cemetery, Herkimer, NY. The family extends their gratitude to the Maplewood Nursing Home for the kindness shown to Judy during her 5 years with them. It was always noticed and appreciated. In lieu of flowers memorial donations may be directed to the University of Rochester School of Nursing or Trinity Reformed Church, 909 Landing Road N., Rochester in Judy's memory.