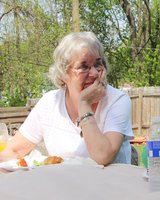 Mary Alexander
Mary Catherine Alexander (Seabry) of Penfield was taken by cancer and carried to heaven on March 1st 2018.
Mary was the beloved wife of Brian Alexander. She was the oldest daughter of Bernard and Roseanne Seabry. At peace with Mary are her brothers, John and Thomas, niece Shonna Fallon and brother-in-law Roger Ward and many dear loved ones.
Mary was a registered nurse and active parishioner of St. Joseph's parish and school. She loved music and singing with her cherished 'folk group' family.
Mary's memory will be forever honored through the lives of her children, Patty & Randy Woodard, Scott Alexander, Christine & William McCormack, Michael & Erin Alexander, treasured grandchildren, Ryan, Kalen, Hannah, Rachel, John, Thomas and Cormack; brother Dan, sisters Roseanne and Maureen, sister in-law Shirley Ward, brothers-in-law, Robert Bills and Larry Fallon; beloved nieces, nephews, cousins and dear friends.
Adored by so many, Mary will be an angel for all. A celebration of Mary's life will be held Monday at 10am at St. Joseph's Catholic Church 43 Gebhardt Rd, Penfield, NY 14526. Internment at White Haven Memorial Park.
The family wishes to thank the wonderful caretakers at the Shepherd Home for their kindness and embrace. Donations in Mary's memory may be made to the Shepherd Home1959 Five Mile Line Road Penfield, N.Y. 14526 or 585-381-0890.