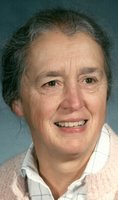 Margaret B. Combs
Margaret "Peg" Combs died 2/3/2018 at the age of 93. Resident of Penfield from 1959-2011 and lately of St. Ann's Cherry Ridge community in Webster. Predeceased by her husband Van (1990), parents, Leon (1981) and Mildred Joslin (1928) Meyer and sisters Mary (2011), Rita (1931) and Helen (1928) and great grandson Pierceon Combs (2013). Peg is survived by her children, Joe (Sally), Nick (Ann), Tom (Cathy), Kate (Dale) O'Dell, and Jim (Clare). She is also survived by 15 grandchildren; Alice, Joseph, Mike, David, Beth, Tom, Greg, Kevin, John, Brian, Dan, Steve, Virginia, Jimmy, and Teddy and 13 great-grandchildren. Peg was born on the family farm in rural Stanley, Iowa in 1924. She was a 1941 graduate of Stanley HS where she graduated top of her class and was an all-star basketball player. Peg was the 1941 Iowa State French Horn champion and also an Iowa State champion vocalist in High School. She performed at the Nationals in St. Paul MN. Peg next earned her two year teaching degree at the University of Northern Iowa (UNI) before joining the Women's Air Corp during World War II. Sergeant Meyer was an Overseas Flight Coordinator and Entertainer before leaving the Army and returning to UNI for her four year degree. Married in 1948, Peg was a full-time mom from 1949 – 1967 when she returned to teaching. She taught at Bay Trail, Baird Road, and Cobbles School in Penfield. After retirement, Peg volunteered for 21 years at Dayton Corner's School as "Miss Maggie."
Additionally, Peg's family would like to thank the entire staff of St. Ann's Cherry Ridge community for their care of Peg over the last 7 years.
Calling hours are Thursday, 2/8 from 4-7 at Jennings, Nulton, and Mattle Funeral Home. Private funeral Mass is 11:00 AM Friday 2/9 at the Chapel at Cherry Ridge in Webster. In lieu of flowers, donations can be made in Peg's name to: McQuaid Jesuit HS, Office of Financial Aid, 1800 S Clinton Ave, Rochester, NY 14618 and to: Our Lady of Mercy HS, Office of Financial Aid, 1437 Blossom Rd, Rochester, NY 14610 or St. Ann's Foundation, 1500 Portland Ave, Rochester, NY 14621.