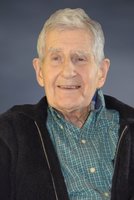 Lane Milham Christ
Lane M. Christ, M.D. (Doc), age 96, of Walworth, died as he lived, peacefully at home surrounded by his family on Sunday, December 17, 2017.
Lane is survived by his soul mate and devoted wife, Arline, beloved children Barry & Robin Christ, Fred Kassel (Nancy Christ-Kassel ( deceased), Gregory Christ (deceased), Marla & Mike Houk, Marty & Laurie Aman, Gary & Betty Aman, Christine Aman, Allison & Mike Keenehan, Rick & Melissa Aman.
He felt blessed with his many grandchildren, each very special to him. His deep sadness was that he was unable to clearly see them grow into young men and women because of his poor vision. His 10 great-grandchildren added more joy to his life. And, he treasured his friendship with his dear and loyal buddy Lloyd Lill.
Lane was born on April 22, 1921 to Leon and Floy Christ, in Rochester N.Y. After graduating from RPI as a chemical engineer, he served in WWII as a Navy Lieutenant in the South Pacific. He returned home, reevaluated his career and entered Medical School at the University of Rochester. Lane was on the medical staff of Rochester General Hospital for over 30 years and had a private internal medicine practice in Irondequoit. He was dearly loved by his patients.
At heart, Lane was a humble, contented man who cherished his family, his home, his friends, and his life. He thoroughly enjoyed music and followed the ups and downs of the stock market with keen interest. His gentle, kind and generous spirit impacted not only his family and his patients but anyone who had the good fortune to know him. His genuine smiles and hugs warmed many a heart.
He was elegant and loving until the very end.
Memorial Services will be private at the convenience of the family.
In lieu of flowers, memorials may be made in gratitude for his kind care, to Lifetime Hospice, 800 West Miller Street, Newark, NY 14513 or to a favored service to the needy.