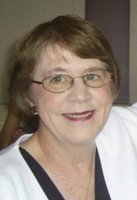 Bertha Louise "Louise" Sleigh
Bertha Louise Sleigh of Fairport passed away September 27, 2017. Louise is survived by her husband of 58 years, William; 2 children, William (Anita) Sleigh and Susan Alldredge; 5 grandchildren, Cameron (Christine) Alldredge, Bradley Alldredge, Joshua (Maggie) Sleigh, Rebekah (Eric) Allen and Kathryn Sleigh; 3 great-grandchildren, Hannah, Luke and Zachary Sleigh; sister, Rebecca Griffith.
Friends may call at Jennings, Nulton & Mattle Funeral Home, 1704 Penfield Road, Saturday October 7th, 4-7PM. Louise's Funeral Service will be held Sunday October 8th, 2PM at Browncroft Community Church, 2530 Browncroft Boulevard, Rochester, NY 14625. Private interment in Philipsburg, PA. Those wishing may direct donations to the Presbyterian Home Foundation or VNS Hospice in Louise's memory.